/
'Van 18 tot 21 november j.l. namen ruim 10.000 religiewetenschappers en theologen deel aan de jaarvergaderingen van de American Academy of Religion en de Society of Biblical Literature in Boston, MA.
Een dag voor deze jaarvergaderingen organiseerde het Center of Theological Inquiry in Princeton, NJ, een Law and Religious Freedom boekpanel over twee boeken die de vrucht zijn van het gelijknamige onderzoek dat gedurende het academisch jaar 2014-2015 aan dit centrum heeft plaatsgevonden.
Het eerste boek, Holy Rus'. The Rebirth of Orthodoxy in the New Russia (Yale University Press, 2017), is geschreven door James Henry Snowden hoogleraar systematische theologie aan Pittsburgh Theological Seminary John P. Burgess. Het tweede boek, Constitutionalism, Democracy and Religious Freedom. To Be Fully Human (Routledge, 2017), is van de hand van Hans-Martien ten Napel.
Tijdens het drukbezochte panel reageerden, na een korte introductie door de auteurs, twee prominente referenten op de beide boeken: Shaun Casey, directeur van het Berkley Center for Religion, Peace & World Affairs aan Georgetown University en voormalig directeur van het Office of Religion and Global Affairs van het Amerikaanse Ministerie van Buitenlandse Zaken; en Cathleen Kaveny, Darald and Juliet Libby hoogleraar aan Boston College, met aanstellingen in zowel de Faculteit der Rechtsgeleerdheid als de Theologische Faculteit, en voorzitter van de Society of Christian Ethics.
Na reacties van de auteurs, en discussie met de zaal, werd het panel besloten met enkele conclusies door Robin Lovin, William H. Scheide Senior Fellow aan het Center of Theological Inquiry in Princeton, NJ, en Cary Maguire University Professor of Ethics emeritus aan Southern Methodist University.
Het boekpanel maakte deel uit van een bescheiden 'book tour' van Hans-Martien ten Napel. Zo presenteerde hij in oktober 2017 zijn boek tijdens het Annual Law and Religion Symposium aan J. Reuben Clark Law School in Provo, Utah, voor een gezelschap van 100 deelnemers uit 50 verschillende landen. In december 2017 is hij uitgenodigd te spreken over zijn boek tijdens een conferentie over 'Reclaiming the West. Public Spirit and Public Virtue' in Washington DC.
Vorige maand sprak Hans-Martien ten Napel eveneens over zijn boek tijdens de startbijeenkomst van het netwerk 'Geloof in Democratie' dat hij samen met Timo Slootweg oprichtte, als onderdeel van het interfacultaire profileringsgebied Politieke Legitimiteit van de Universiteit Leiden.'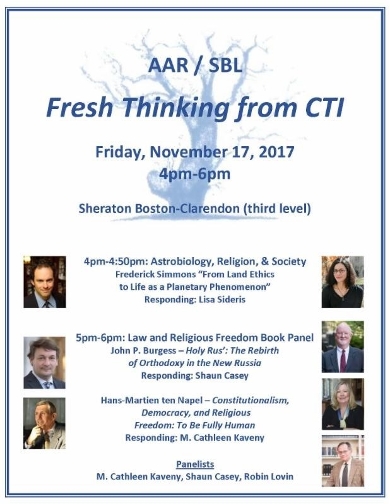 Zie voorts: